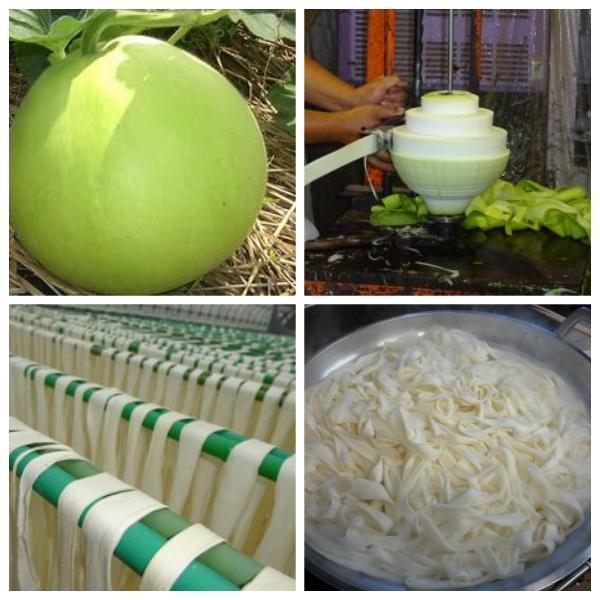 What is Kanpyo?
Once the Cucurbitaceae plant blooms with white flowered gourd, a large white fruit is produced called "Fukube" from the end of June to the end of August. It can be up to 35-40 cm tall and weight between 7-8 kg. This "Fukube" is harvested and then it is made into long, thin strips, as if peeling the skin. These are then dried in the sun or with hot air to make Kanpyo. It is a specialty of Tochigi prefecture which accounts for 90% of Japan's production.
Peeling
The green outer skin is peeled, leaving only the seed in the center of the fruit, which is cut thinly into pieces that are 3-4cm across and 2m long. In order to cut it with an even width all the way through, the blade is placed on a surface and it is rotated to peel off the skin.
Why is it called kanpyo even though it's made from white flowered gourd?
The fruit of the white flowered gourd or "fukube," is written with the 瓢 character, which can also be read as "pyo." "Kan" (乾), the character for "dry" is added to make the word 乾 瓢 which could also be written as ⼲瓢 using the character ⼲, which means to leave something out to dry.
Boiling Kanpyo
The dried kanpyo is cut to the width of seaweed and immersed temporarily in water. It becomes more flexible aThe dried kanpyo is cut to the width of seaweed and immersed temporarily in water. It becomes more flexible a
Siehe Kanpyo Produktion in einem NHK Video mit diesem Link: https://www3.nhk.or.jp/nhkworld/en/ondemand/video/2054098/